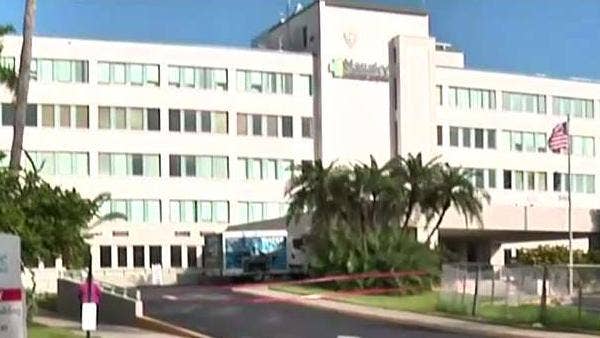 MIAMI – This city of sand and skyscrapers is rapidly emptying out as Hurricane Irma chugs toward it, but an eerie calm and a nervous curiosity abides in the stubborn and stranded folks who remain.
Benjamin Garcia is in Miami on a work exchange program. He's learning management skills at an upscale downtown hotel and has been in the Sunshine State for a little more than two months now. Earlier this week, his girlfriend Mia traveled more than 4,000 miles from Argentina to visit him.
"This is crazy. I can feel the wind shake… beneath my feet."

– Benjamin Garcia
On Friday night, both were about three beers in when Fox News caught up with them.
"This is crazy," Garcia said. "I can feel the wind shake… beneath my feet. You can feel it. Can you feel it? I need another beer, man."
Mia quipped, "You said that yesterday."
As weather forecasts and warnings about Hurricane Irma increase in intensity, the monster storm that's beaten up the Bahamas and pounded a corner of Cuba, is heading straight for Florida.
Irma's expected to take her wrath out on the state early Sunday with speeds that could snap trees and cause catastrophic damage to the area.
People up and down the coast – as well in other parts of the state- aren't taking chances.
By early afternoon, several had called it a day. Almost all of the big name chains had closed shop. Boarded up businesses and homes could be seen for miles. The interstate, going in the direction of Miami, was wide open.
Naples, known for its high-end shopping and rich-green golf courses, looked more like a ghost town than a shopping hub.
Many stores had closed early, letting employees go home and prepare for Irma.
There were a few holdouts. At the 7-Eleven in Estero, Fla., one employee told Fox, "I'm here until the boss comes in himself and tells us to go home… and he's not coming in any time soon."
Ft. Lauderdale was also a shell of its normal activity.
But perhaps most jarring was Miami. Usually, lit up and vibrant, entire city streets sat quiet and eerily empty.
Across from the Port of Miami, there were several police vehicles lined up.
"We're waiting for her," one officer said of Irma.
So was the rest of the state.
source http://allofbeer.com/2017/09/26/reporters-notebook-south-florida-empty-eerie-as-stray-holdouts-await-irma/
Source: http://allofbeer.blogspot.com/2017/09/reporters-notebook-south-florida-empty.html