Les Carpenter: The UFC just might have the best drug-testing program in sports but the rash of failed tests around UFC 200 shows credibility comes at a price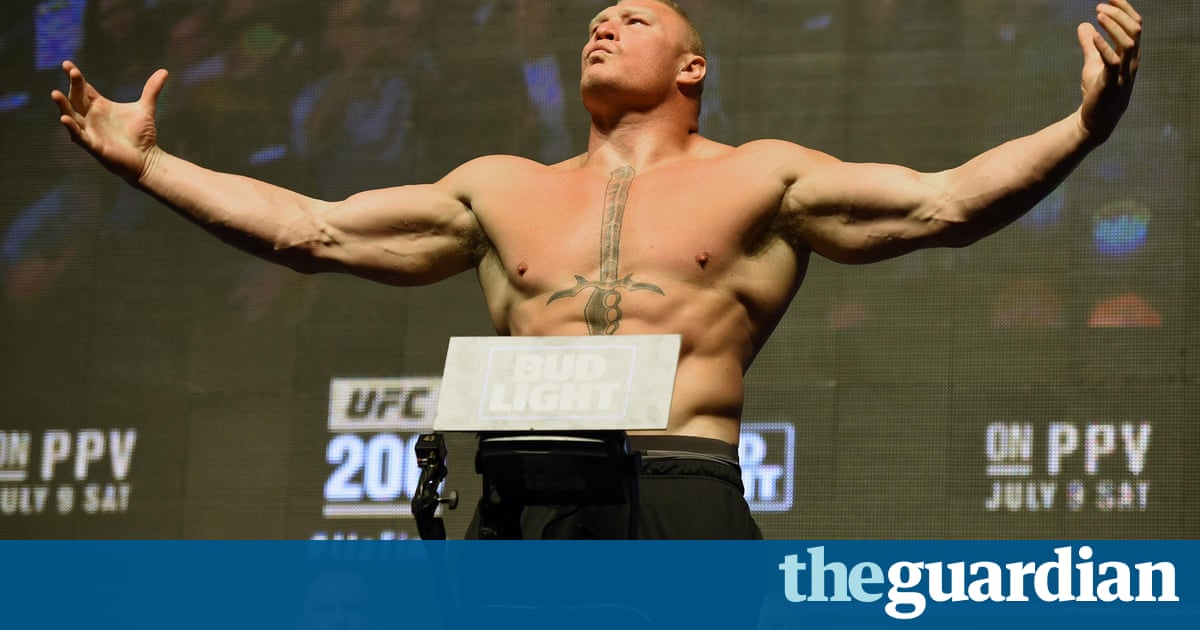 Just a week ago, Brock Lesnar stood in a tent behind Las Vegass T-Mobile Arena celebrating a most improbable victory. He laughed. He strutted. He joked about wanting to drink a beer from a company that was not an official UFC sponsor. It seemed a story too good to be true: How could a nearly 39-year-old man, five years removed from his last mixed martial arts fight, stomp back in the cage and look like he was a decade younger?
The US Anti-Doping Agency says this was likely a farce, announcing on Friday that Lesnar has been flagged for a possible anti-doping violation on a sample taken 12 days before last weekends UFC 200. If Usada ultimately proves that Lesnar tested positive for PEDs, that will mean half of 200s original main event fighters have been caught cheating. In the end, the most honest man in Las Vegas that week might have been a man who wasnt even there to fight, Nate Diaz, who at one point growled: Everybodys on steroids.
Diaz and his brother Nick have long alleged that most of the UFCs fighters take steroids, through their proof has largely come in profane anecdotal screeds, most from Nick who points out that his five-year suspension for positive marijuana tests seem hypocritical given the other fighters attempts to manipulate competition.
In a way, the UFC themselves are helping to prove them right. A year ago, the organization handed their drug testing operation to Jeff Novitzky the federal agent who led the infamous Balco investigation in the early 2000s. This was a calculated risk on the UFCs part. You dont hire the man who brought down Lance Armstrong and Marion Jones and ruined the legacies of Roger Clemens and Barry Bonds if you arent prepared for a flood of positive PED tests.
Were putting this program out there as a gold standard, The Washington Posts Rick Maese quoted Nowitzky telling a Washington panel this spring. So that Major League Baseball, so that the NFL says Hey, heres what a real, solid comprehensive, robust program looks like. And were hoping in years to come that they follow suit.
The UFCs departing owners Lorenzo and Frank Fertitta wanted to push their sport into the mainstream, where the biggest money lies. Novitsky brings respect. Who knows how much adding him and his testing program was worth to the $4bn sale price the Fertittas got this week when WME-IMG bought the organization from them? But there is no doubt they bought credibility whey they recruited Nowitzky.
Now comes the tricky part. How far do the UFCs new owners want to go with their gold standard testing program? Most sports leagues and organizations arent truly committed to testing. They do enough to say they are serious about stopping PEDs but nothing much changes. A few athletes get caught. Suspensions are handed out, but no one wants to risk losing their biggest names.
Whether they wanted to or not, the UFC has. Nine days ago they endured the humiliation of pulling Jon Jones from the main event of 200 after Usada notified UFC officials of a positive test less than 72 hours before his rematch with Daniel Cormier. Now they must deal with Lesnar, whose 28 June test was flagged on Friday by Usada officials. They were clearly rattled in the days before 200 as they peeled Joness picture off the side of the arena and quickly added Anderson Silva, another fighter who has tested positive for PEDs, to the schedule.
Will the UFC continue to want to be that gold standard? Can they stand having cards fall apart at the last minute, potentially undercutting pay-per-view sales? It appears their drug program is working. Do they want to build on that success? Do the new owners even view losing half the main event to positive PED tests a success?
The irony of Lesnars test is that it came after the UFC granted him a controversial exemption from their normal requirement that a fighter go through four months of testing before his bout. The exemption was procedural matter. Since Lesnar didnt re-sign with the UFC until six weeks before 200 there was no way he could undergo four months of tests. He was still subject to testing upon re-joining the organization.
At the time Hunt who is now demanding half of Lesnars record $2.5m purse from 200 complained about the exemption, telling Fox Sports that Lesnar is juiced to the gills. Lesnar shrugged off those criticisms and even scorned Jones the day after that fighters positive test was announced. Its unprofessional for anybody to do that, he said at a press conference. Then he smiled, knowing his fight with Hunt had just been given more prominence adding: Merry Christmas to Brock Lesnar
Instead of Santa Claus, Lesnar got the agent who has already ruined the too-good-to-be-true stories of Armstrong, Jones and Bonds. Jeff Novitzky has given the UFC exactly what their owners wanted: credibility. But is it the kind of credibility they are willing to embrace as cards dissolve and fans grumble? How many posters do they want to pull off of arena walls in the days before fights? How many celebratory post-fight press conferences will turn out to be worthless as Lesnars last weekend?
I believe any man can do anything he wants if you put your mind to it, Lesnar said after his victory.
He meant to sound inspirational. Now he sounds empty.
In Jeff Novitzky the UFC might have the person who can prove Nate Diaz right. They can establish a testing program that could be a model for all sports. But that credibility comes at a price, especially when many fans dont seem to care if Lesnar is doped to the gills. Now that theyve been sold, will the UFC still want to be a leader in the fight against doping?
source http://allofbeer.com/2017/09/15/will-the-ufcs-drug-testing-program-prove-too-credible-for-its-own-good/
Source: http://allofbeer.blogspot.com/2017/09/will-ufcs-drug-testing-program-prove.html