We asked our critics to pick their best and worst moment from this years cultural offerings. Grady Smith chose Chris Stapletons chutzpah and country radios hubris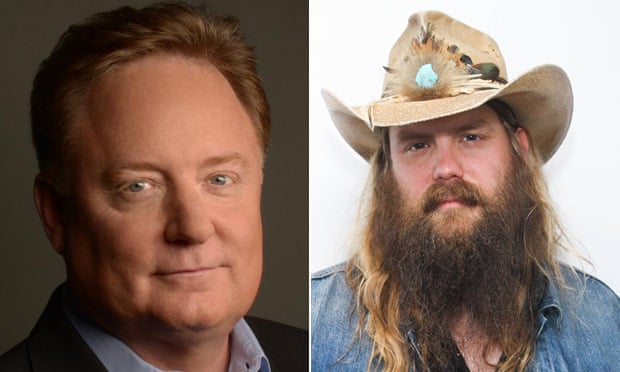 Best: Chris Stapleton
When Chris Stapleton, a burly, bearded country crooner that most viewers had never heard of, performed at the CMA Awards in November, no one could have predicted that he would suddenly become the proverbial Adele of country music. But thats exactly what happened.
Singing alongside Justin Timberlake, Stapleton delivered a roaring version of his Tennessee Whiskey along with Timberlakes Drink You Away to a crowd of awestruck artists. The nine-minute celebration of grizzled bellows (from Stapleton) and silky falsetto (via Timberlake) made for the kind of lightning-in-a-bottle TV moment producers can only dream of, and it sent Stapletons album not just to the top of the country charts, but to No 1 on the all-genre Billboard 200 chart for two straight weeks.
It didnt hurt that Stapleton, who has written hits like Luke Bryans Drink A Beer and Josh Turners Your Man and has the utmost respect of any artist in Nashville, also swept his categories at the ceremony, winning New Artist of the Year, Male Vocalist of the Year and Album of the Year for his stunning debut, Traveller. It was a clear message from Music Row that, after years of soundalike hits all chasing the shallow appeal of Florida Georgia Line and Luke Bryan, the industry is ready to turn the page. The minting of Stapleton as a new country superstar marked a huge victory for fans of quality country music, and yet another example (like Sturgill Simpson and Brandy Clark last year) of underdog artists connecting with the public. Stapleton may not think of himself as a country music savior, but his awards sweep and breakout performance were the proverbial nail in the coffin of bro country. Hallelujah.
Worst: Gary Overton and country radio
If you arent on country radio, you dont exist. So said Gary Overton, the then CEO of Sony Nashville, to a roomful of radio programmers back in February, unintentionally sparking a firestorm that lit up the country music world. In the weeks that ensued, Overtons quote spawned thinkpieces and furious tweets, as it had succinctly summed up most major labels narrow-minded perspectives about the best way to break new country artists: radio. Only radio. Radio is king. All hail radio.
Never mind the fact that albums by Aaron Watson, Kacey Musgraves, Willie Nelson and Merle Haggard, Jason Isbell, and, ya know, Chris freakin Stapleton all hit No 1 on the country chart this year with almost no support from country radio labels like what they already know, and unfortunately for both variety and risk, they know radio. This year, the perils of chasing radio airplay were laid bare by artists like Gary Allan and Eli Young Band, who completely altered their sounds with funky (the most obnoxious buzzword in Nashville at the moment) singles meant to garner radio airplay only to find that fans werent buying what they were selling. Joe Nichols even expressed a desire to make more traditional music but said he couldnt because hes not that rich. Heres the rub: despite these guys efforts to cater to radio, they (and many of countrys biggest hitmakers) cant come close to touching Stapleton, Musgraves or Simpson when it comes to album sales or headlining drawing power.
Stations and labels rely heavily on market research and data to drive their playlists, but these hollow metrics result in hollow music and disengaged listeners, and they lead people to think callously, as when one programmer compared women to tomatoes earlier this year. Data will never replace heart and human connection, and if the resounding breakout success of Chris Stapleton cant wake up radio stations to that fact, then the relevance of country music in popular culture will take a major hit as true country fans tune out of country radio altogether.
source http://allofbeer.com/2017/08/04/the-best-and-worst-us-culture-2015-country/
Source: http://allofbeer.blogspot.com/2017/08/the-best-and-worst-us-culture-2015.html